[ COVER OF THE WEEK ]

Pacman Source

[ AnalyticsWeek BYTES]
>> The New Analytics Professional: Landing A Job In The Big Data Era by analyticsweekpick
>> The Reliability and Validity of the Consumer Financial Protection Bureau (CFPB) Complaint Database by bobehayes
>> Linking Constituency and VoC Metrics by bobehayes
[ FEATURED COURSE]
Learning from data: Machine learning course
[ FEATURED READ]
Data Science from Scratch: First Principles with Python
[ TIPS & TRICKS OF THE WEEK]
Data aids, not replace judgement
Data is a tool and means to help build a consensus to facilitate human decision-making but not replace it. Analysis converts data into information, information via context leads to insight. Insights lead to decision making which ultimately leads to outcomes that brings value. So, data is just the start, context and intuition plays a role.
[ DATA SCIENCE Q&A]
Q:What does NLP stand for?
A: * Interaction with human (natural) and computers languages
* Involves natural language understanding
Major tasks:
– Machine translation
– Question answering: "what's the capital of Canada?"
– Sentiment analysis: extract subjective information from a set of documents, identify trends or public opinions in the social media
– Information retrieval

Source
[ VIDEO OF THE WEEK]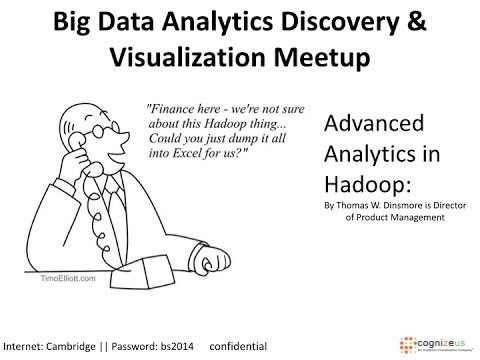 Advanced #Analytics in #Hadoop
Subscribe to Youtube
[ QUOTE OF THE WEEK]
Without big data, you are blind and deaf and in the middle of a freeway. – Geoffrey Moore
[ PODCAST OF THE WEEK]
#BigData @AnalyticsWeek #FutureOfData #Podcast with @Beena_Ammanath, @GE
Subscribe
[ FACT OF THE WEEK]
Poor data across businesses and the government costs the U.S. economy $3.1 trillion dollars a year.