Warning: file_get_contents(http://events.analytics.club/tw/eventpull.php?cat=WEB): failed to open stream: HTTP request failed! HTTP/1.0 404 Not Found
in /home3/vishaltao/public_html/mytao/script/includeit.php on line 15
Warning: file_get_contents(http://events.analytics.club/tw/eventpull.php?cat=WEB): failed to open stream: HTTP request failed! HTTP/1.0 404 Not Found
in /home3/vishaltao/public_html/mytao/script/includeit.php on line 15
Warning: file_get_contents(http://events.analytics.club/tw/eventpull.php?cat=WEB): failed to open stream: HTTP request failed! HTTP/1.0 404 Not Found
in /home3/vishaltao/public_html/mytao/script/includeit.php on line 15
Warning: file_get_contents(http://events.analytics.club/tw/eventpull.php?cat=WEB): failed to open stream: HTTP request failed! HTTP/1.0 404 Not Found
in /home3/vishaltao/public_html/mytao/script/includeit.php on line 15
Warning: file_get_contents(http://events.analytics.club/tw/eventpull.php?cat=WEB): failed to open stream: HTTP request failed! HTTP/1.0 404 Not Found
in /home3/vishaltao/public_html/mytao/script/includeit.php on line 15
Warning: file_get_contents(http://events.analytics.club/tw/eventpull.php?cat=WEB): failed to open stream: HTTP request failed! HTTP/1.0 404 Not Found
in /home3/vishaltao/public_html/mytao/script/includeit.php on line 15
Warning: file_get_contents(http://analyticsweek.com/tw/blogpull.php): failed to open stream: HTTP request failed! HTTP/1.0 404 Not Found
in /home3/vishaltao/public_html/mytao/script/includeit.php on line 15
Warning: file_get_contents(http://analyticsweek.com/tw/blogpull.php): failed to open stream: HTTP request failed! HTTP/1.0 404 Not Found
in /home3/vishaltao/public_html/mytao/script/includeit.php on line 15
Warning: file_get_contents(http://news.analyticsweek.com/tw/newspull.php): failed to open stream: HTTP request failed! in /home3/vishaltao/public_html/mytao/script/includeit.php on line 15
Warning: file_get_contents(http://news.analyticsweek.com/tw/newspull.php): failed to open stream: HTTP request failed! in /home3/vishaltao/public_html/mytao/script/includeit.php on line 15
Warning: file_get_contents(http://news.analyticsweek.com/tw/newspull.php): failed to open stream: HTTP request failed! in /home3/vishaltao/public_html/mytao/script/includeit.php on line 15
[ COVER OF THE WEEK ]

Ethics Source

[ FEATURED COURSE]
[ FEATURED READ]
The Signal and the Noise: Why So Many Predictions Fail–but Some Don't
[ TIPS & TRICKS OF THE WEEK]
Grow at the speed of collaboration
A research by Cornerstone On Demand pointed out the need for better collaboration within workforce, and data analytics domain is no different. A rapidly changing and growing industry like data analytics is very difficult to catchup by isolated workforce. A good collaborative work-environment facilitate better flow of ideas, improved team dynamics, rapid learning, and increasing ability to cut through the noise. So, embrace collaborative team dynamics.
[ DATA SCIENCE Q&A]
Q:What is A/B testing?
A: * Two-sample hypothesis testing
* Randomized experiments with two variants: A and B
* A: control; B: variation
* User-experience design: identify changes to web pages that increase clicks on a banner
* Current website: control; NULL hypothesis
* New version: variation; alternative hypothesis

Source
[ VIDEO OF THE WEEK]
@ChuckRehberg / @TrigentSoftware on Translating Technology to Solve Business Problems #FutureOfData #Podcast
Subscribe to Youtube
[ QUOTE OF THE WEEK]
Data really powers everything that we do. – Jeff Weiner
[ PODCAST OF THE WEEK]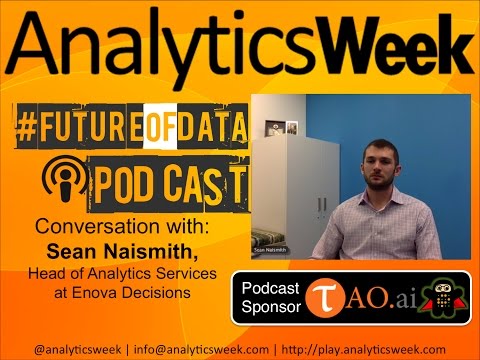 #FutureOfData Podcast: Conversation With Sean Naismith, Enova Decisions
Subscribe
[ FACT OF THE WEEK]
In late 2011, IDC Digital Universe published a report indicating that some 1.8 zettabytes of data will be created that year.