[ COVER OF THE WEEK ]

Statistics Source

[ LOCAL EVENTS & SESSIONS]
[ AnalyticsWeek BYTES]
>> 10 Techniques to Boost Your Data Modeling by analyticsweek
>> BDAS Analytics Suite Blends Big Data With HR by analyticsweekpick
>> Video: R and Python in in Azure HDInsight by analyticsweekpick
[ NEWS BYTES]
>>
Choosing the Right Data Catalog for Your Business – insideBIGDATA Under Business Analytics
>>
AMA Updates Population Health Tool to Improve Patient Care Access – Health IT Analytics Under Health Analytics
>>
Global Streaming Analytics Market 2018 Revenue, Potential Growth, Analysis, Price, Market Share, Growth Rate … – The West Chronicle (press release) (blog) Under Streaming Analytics
[ FEATURED COURSE]
Applied Data Science: An Introduction
[ FEATURED READ]
Python for Data Analysis: Data Wrangling with Pandas, NumPy, and IPython
[ TIPS & TRICKS OF THE WEEK]
Analytics Strategy that is Startup Compliant
With right tools, capturing data is easy but not being able to handle data could lead to chaos. One of the most reliable startup strategy for adopting data analytics is TUM or The Ultimate Metric. This is the metric that matters the most to your startup. Some advantages of TUM: It answers the most important business question, it cleans up your goals, it inspires innovation and helps you understand the entire quantified business.
[ DATA SCIENCE Q&A]
Q:What does NLP stand for?
A: * Interaction with human (natural) and computers languages
* Involves natural language understanding
Major tasks:
– Machine translation
– Question answering: "what's the capital of Canada?"
– Sentiment analysis: extract subjective information from a set of documents, identify trends or public opinions in the social media
– Information retrieval

Source
[ VIDEO OF THE WEEK]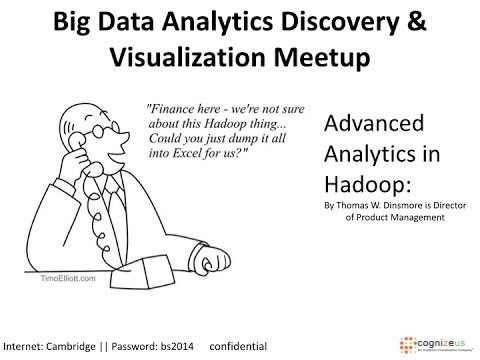 Advanced #Analytics in #Hadoop
Subscribe to Youtube
[ QUOTE OF THE WEEK]
Torture the data, and it will confess to anything. – Ronald Coase
[ PODCAST OF THE WEEK]
#BigData #BigOpportunity in Big #HR by @MarcRind #JobsOfFuture #Podcast
Subscribe
[ FACT OF THE WEEK]
As recently as 2009 there were only a handful of big data projects and total industry revenues were under $100 million. By the end of 2012 more than 90 percent of the Fortune 500 will likely have at least some big data initiatives under way.