[ COVER OF THE WEEK ]

Data security Source

[ AnalyticsWeek BYTES]
>> Wrapping my head around Big-data problem by v1shal
>> Data Science Skills and the Improbable Unicorn by bobehayes
>> When shouldn't you rely on data analytics – The danger of trusting polls by checcaaird
[ NEWS BYTES]
>>
Software to "Encode the Mindset" of Lawyers – Lawfuel (blog) Under Prescriptive Analytics
>>
Pulling Real ROI from a Sea of Big Data Analytics – insideBIGDATA Under Big Data Analytics
>>
Four things you should know about machine learning – GovInsider Under Machine Learning
[ FEATURED COURSE]
Process Mining: Data science in Action
[ FEATURED READ]
Machine Learning With Random Forests And Decision Trees: A Visual Guide For Beginners
[ TIPS & TRICKS OF THE WEEK]
Finding a success in your data science ? Find a mentor
Yes, most of us dont feel a need but most of us really could use one. As most of data science professionals work in their own isolations, getting an unbiased perspective is not easy. Many times, it is also not easy to understand how the data science progression is going to be. Getting a network of mentors address these issues easily, it gives data professionals an outside perspective and unbiased ally. It's extremely important for successful data science professionals to build a mentor network and use it through their success.
[ DATA SCIENCE Q&A]
Q:Examples of NoSQL architecture?
A: * Key-value: in a key-value NoSQL database, all of the data within consists of an indexed key and a value. Cassandra, DynamoDB
* Column-based: designed for storing data tables as sections of columns of data rather than as rows of data. HBase, SAP HANA
* Document Database: map a key to some document that contains structured information. The key is used to retrieve the document. MongoDB, CouchDB
* Graph Database: designed for data whose relations are well-represented as a graph and has elements which are interconnected, with an undetermined number of relations between them. Polyglot Neo4J

Source
[ VIDEO OF THE WEEK]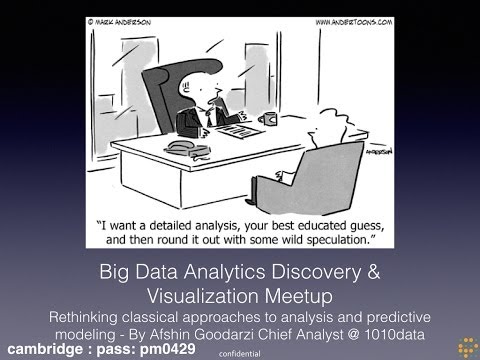 Rethinking classical approaches to analysis and predictive modeling
Subscribe to Youtube
[ QUOTE OF THE WEEK]
We chose it because we deal with huge amounts of data. Besides, it sounds really cool. – Larry Page
[ PODCAST OF THE WEEK]
Using Analytics to build A #BigData #Workforce
Subscribe
[ FACT OF THE WEEK]
According to estimates, the volume of business data worldwide, across all companies, doubles every 1.2 years.