[ COVER OF THE WEEK ]

Data Storage Source

[ AnalyticsWeek BYTES]
>> Unraveling the Mystery of Big Data by v1shal
>> How could Watson and Big data help pick a better US president by v1shal
>> Is Big Data The Most Hyped Technology Ever? by bobehayes
[ NEWS BYTES]
>>
Hortonworks and IBM double down on Hadoop – CIO New Zealand Under Hadoop
>>
VisualVault Release New Business Analytics Functionality – Read IT Quik Under Business Analytics
>>
Intel Corporation's Internet of Things Business Delivers Strong … – Motley Fool Under Internet Of Things
[ FEATURED COURSE]
Learning from data: Machine learning course
[ FEATURED READ]
Introduction to Graph Theory (Dover Books on Mathematics)
[ TIPS & TRICKS OF THE WEEK]
Data aids, not replace judgement
Data is a tool and means to help build a consensus to facilitate human decision-making but not replace it. Analysis converts data into information, information via context leads to insight. Insights lead to decision making which ultimately leads to outcomes that brings value. So, data is just the start, context and intuition plays a role.
[ DATA SCIENCE Q&A]
Q:What is POC (proof of concept)?
A: * A realization of a certain method to demonstrate its feasibility
* In engineering: a rough prototype of a new idea is often constructed as a proof of concept

Source
[ VIDEO OF THE WEEK]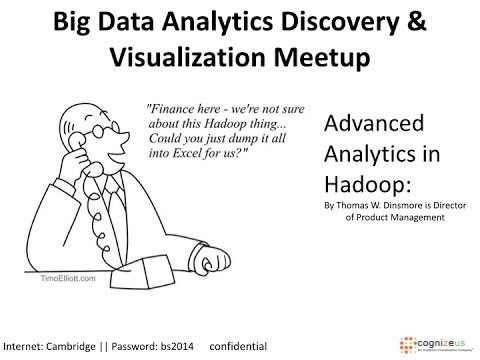 Advanced #Analytics in #Hadoop
Subscribe to Youtube
[ QUOTE OF THE WEEK]
I'm sure, the highest capacity of storage device, will not enough to record all our stories; because, everytime with you is very valuable da
[ PODCAST OF THE WEEK]
#FutureOfData Podcast: Peter Morgan, CEO, Deep Learning Partnership
Subscribe
[ FACT OF THE WEEK]
29 percent report that their marketing departments have 'too little or no customer/consumer data.' When data is collected by marketers, it is often not appropriate to real-time decision making.